Clean sleek lines to oak raised panels, we select only the finest cabinetry manufacturers and model our designs around the functionality of your home. Whether that is a kitchen, bath, or a custom arrangement, Modern Home Kitchen & Bath provides you with the largest selection of cabinetry in the Valley, so you can't go wrong.
We provide you with 9 different, high-quality, cabinet manufacturers that we've built long standing relationships with.  We will assist you to make the best decision you can make when selecting cabinets. Leave it to us, the industry leaders in cabinetry design and remodeling.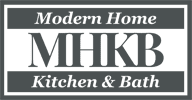 © 2017 Copyright Modern Home Kitchen & Bath.