 LET'S MAKE YOUR
DREAM KITCHEN
Kitchens are the heart of our homes. At Modern Home Kitchen & Bath, we understand the importance of creating a space that reflects you and your family.
Baths are a very important and functional area of your home. We strive to help our clients design baths that provide comfort and utility for them as well as their guests.
Sometimes it's difficult to translate design ideas that you have in mind, don't worry. We have a powerful tool that can help you put your ideas into action. Check out our visualizer.
WARREN'S MOST EXPERIENCED KITCHEN DESIGN TEAM
Modern Home Kitchen & Bath is Warren's most experienced Kitchen design team. We deliver to you the best customer service and premier installations for your home.  From remodeling and renovations to cabinets, counter tops, sinks, baths, faucets, floors and all the accessories, Modern Home Kitchen & Bath is the one stop to make your home beautiful!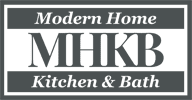 © 2017 Copyright Modern Home Kitchen & Bath.